Truck Driver Shortage – Continent Wide
Across the Country – Truck Driver Shortage
Truck Driver Shortage
Anyone in the transportation industry is well aware of the shortage of truck drivers. Currently this industry has room for an additional 30,000 to 40,000 truckers. By 2022 experts predict this number could jump to 239,000 and that is a significant truck driver shortage for the industry.
In an effort to aide this truck driver shortage, Biagi Bros donated one of their highway tractors to Santa Rosa Junior College. The college program teaches everything needed in order to become a California Commercial Truck Class A driver. ( SRJC Driver Training ) Even though there is no obligation for these students to work for Biagi, the company feels strongly about doing what they can to help with this shortage. Making training more accessible is a step in the right direction.
So what's keeping drivers away? Some say it's the pay. Any time there is a shortage in the workforce, wages are driven up. This is reflected in the significant increase since 2012 in the national salary average for truck drivers. A shortage also increases the amount workers jump from company to company in search of the best pay and benefits. This can take its toll on employers. Companies such as Biagi that have taken the time and resources to foster a sense of family and compensate their drivers fairly have not been impacted as severely by this.
Some feel that increased regulations also has an effect. Both trucking companies as well as drivers who operate independently have increased expenses as environmental and monitoring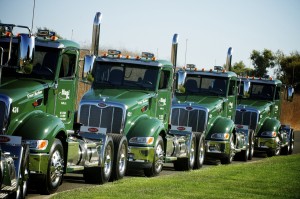 technologies are mandated. This makes it harder to meet the bottom line. Again those companies implementing and investing in more environmentally friendly technologies will in the long term reap the rewards for not only the environment but, their drivers and companies as well.
Driving truck has evolved over the years and so have the men and women getting the job done. Not that this job has gotten any easier! New drivers quickly find out that they have a lot of responsibilities and have to pay attention to detail. Drivers need to know everything from schedules and routes, to fuel efficiency and regulations. An increase in the demands made on them is also a factor in the shortage.
As more truck drivers retire and the shortage continues, those companies being proactive and thinking outside of the box in attracting new drivers will continue to thrive. Biagi Bros intends to do what they can to help make driving a more desirable career. They support their drivers by keeping up to date with regulations and using new technologies, on and off the road, to help get the job done. They support the training of new drivers in the form of their significant donation to Santa Rosa Junior College. Biagi is also very intentional in maintaining a family atmosphere within their company and continues partnering with the communities they are in to be a positive influence. Despite our current economy, Biagi is committed to investing in the drivers this industry desperately needs.

If you are interested in working for a company that cares about the environment, people and a job well done in every area of life, contact Biagi Bros.
Did you know that Biagi Bros has partnered with SRJC Driver Training to provide driver training for drivers wanting to get their commercial class "A" driving ticket?
Please follow and like us: