Smarter Transportation
Smarter Transportation with SmartWay!
In a global market where goods are moving faster and further than ever and the strength of our economy is affected greatly by our ability to move freight, the freight transportation industry has had to be innovative and dynamic to keep up. Add to this a growing awareness and demand to handle environmental concerns responsibly and you have the birth of the SmartWay Program. Biagi Bros is a proud supporter of this program and continues to be a front runner in going green by implementing many practices and technologies that meet and often exceed SmartWay standards.
Since 2003 the EPA has been collaborating with the freight transportation industry in this market-driven partnership to significantly decrease its carbon footprint. The launch of the program in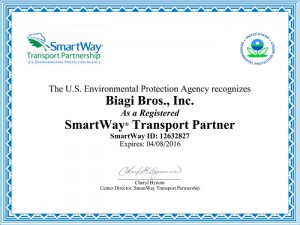 2004 is a voluntary initiative that partners the EPA with all areas of the industry to ship and carry goods in a way that improves efficiency. From policy and technical solutions to research and evaluations the SmartWay program is always looking for better ways and technologies to improve the handling and transportation of freight. Transportation is an industry that often gets a bad rap for contributing to the use of fossil fuels, carbon and nitrogen oxide emissions, and particulate matter emissions. Companies like Biagi Bros who have adopted the SmartWay Program have not only significantly decreased their carbon footprint but, have also reaped the rewards of decreased costs in their businesses. SmartWay program trucks are operated with greater efficiency and utilize equipment that reduces overall fuel consumption.
Biagi Bros is a forward thinking company that uses their network, warehousing, and transportation resources to maximize efficiency and minimize environmental impact. Last year Biagi put a fleet of fifteen Freightliner transport trucks on the road that not only have cleaner exhaust consisting of hydrogen and water, but are also 15,000 lbs. lighter, which translates to a 10% reduction in fuel costs and less wear and tear on America's highways. Only a handful of transport companies have these trucks on the road. Biagi has also shown their innovation and concern for the environment in their most recent project which uses recycled water for their landscape irrigation at two of their warehouse properties. They are the first of nine businesses in the Napa Valley area to stop using scarce and precious potable water for irrigation. On top of making a better choice for the environment, they will also save over $21,000 in water bills over the next twelve months alone.
There are nearly 3,000 companies and associations who have adopted various components of this program and it continues to grow as it moves north into Canada. Biagi Bros continues to be one of those dynamic and innovative companies in the industry. Continuing to look for ways to reduce their impact on the environment has also allowed them to reduce costs in an age of increase. This translates to being able to pass those savings along to their valued customers proving that doing things the smart way is indeed better.

If you are interested in working for a company that cares about the environment, people and a job well done in every area of life, contact Biagi Bros.
Please follow and like us: