9 11 Memorial Garden Napa CA
9 11 Memorial Garden Napa CA
The vision is being realized. The much-anticipated structure is taking shape, but this is not just an ordinary construction site you will encounter when you visit down-town Napa this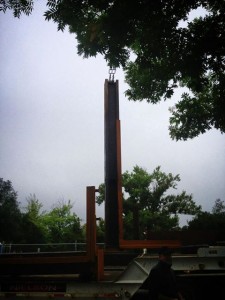 summer. It is the long-awaited 9/11 Memorial Garden. Designed by local artist, Gordon Huether, and landscape architect, Gretchen Stranzl McCann, the Memorial's purpose is to honor the victims, as well as the survivors of 9/11.
This past June marked a major landmark for construction as four steel beams – wreckage from the World Trade Center – took their places at the center of the Memorial's sculpture just west of Main Street (beside Napa Creek). Three glass panels in the structure will denote the names of the almost 3,000 people killed in the attacks of September 11, 2001, while a bench-height wall encircling the sculpture will enable people to rest, meditate and reflect. The official dedication ceremony is to be held this September 11th.
To us, this is what being part of a community is all about. We aren't landscapers or architects, but we know logistics. We have trucks and some great drivers who were privileged to haul those very special steel artifacts from New York to Napa. Biagi Bros is honored to have a part in helping make the vision for this 9/11 Memorial Sculpture and Garden a reality.
If you are in need of warehousing, logistics, 3PL, supply chain management and/or transportation services or you would like to work with a company that's progressive, community minded and green conscious, contact us at Biagi Bros.
Please follow and like us: