September 2023
Climbing the Ranks: Biagi Bros was recognized as #47 on NorthBay biz's Top 500 Companies List, marking a remarkable rise from #66 in 2016 and #51 in 2018. We're proud of the progress and growth achieved over the years, now 19 places higher than in 2015 when we first made the list. Cheers to continued growth in the coming years!
July 2023, DC Network Spotlight
2022 SmartWay® Certificate
April 2018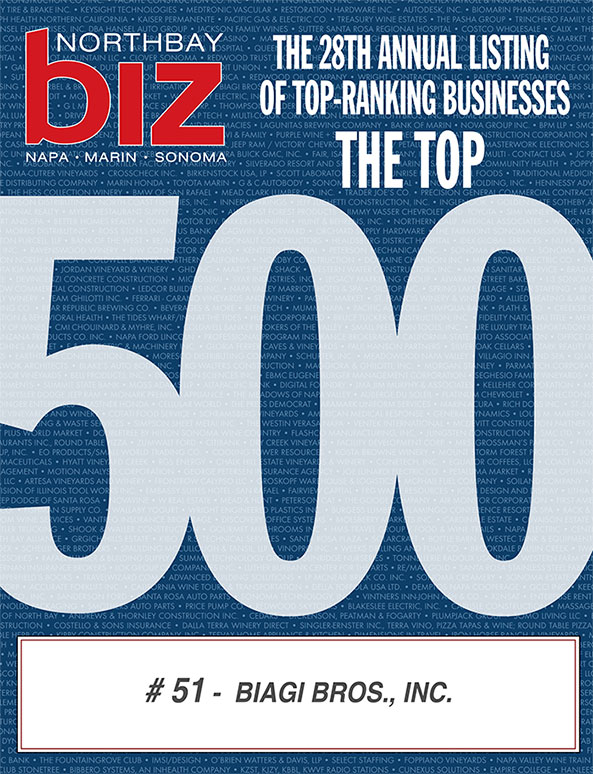 April 2016
January 2016
PepsiCo Selects Biagi Bros. of Napa CA as their Official Carrier for the 2016 Super Bowl
Napa CA – January 20, 2016
There are a large number of carriers across the USA and yet Biagi Bros. was selected as PepsiCo's official carrier for the 2016 Super Bowl. PepsiCo's Chris Peretti stated, "Biagi Bros. is ours best service-oriented carrier". Since the company's inception in 1978, excellence in customer service has been the key to the success of this major California-based trucking, warehousing and supply-chain logistics company.
Joe Biagi has been tasked with selecting the equipment and drivers to deliver the Pepsi products to both team's Super Bowl practice fields, sponsored events and the Super Bowl game itself at Levi Stadium, Santa Clara, CA. Joe will be utilizing some of the Biagi Bros. newest tractors and temperature-controlled trailers. These new tractors are so efficient they actually improve the air quality while delivering Pepsi products to the Super Bowl events. Delivering the clean taste of Pepsi while creating cleaner air – literally, the exhaust from these trucks is comprised of hydrogen and water.
The drivers for each of these loads of Pepsi products delivered to the Super Bowl venues have been selected for their part in making Biagi Bros. known as … "the best service-oriented carrier".
A company gets recognition for service when it becomes more than a statement on a wall. Service must become integral to the culture of the business. Service runs throughout Biagi Bros. Whether it is community service, green initiatives such as clean-air trucks, water conservation by using recycled water for warehouse irrigation needs, or the energy efficient buildings, warehouses and terminals, all work together to make Biagi Bros. the company it is today. An environmentally conscious company founded upon service, and recognised by PepsiCo as their Official 2016 Super Bowl Carrier.
November 2015
Jorge Bernabe - Employee of the Month!
SmartWay® Transport Partner for ranking in the Top Tier of Carbon Efficiency
Our company is officially acknowledged as one of the top 500 revenue-producing companies in the North Bay.
Certificate of Reporting Completion Truck and Bus Regulation
CREDIT FORM
Download a Credit Form, print and mail to: 787 AIRPARK ROAD, NAPA, CA 94558; or fax back to: (707) 251-0309